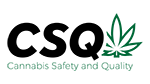 QIMA/WQS is a licensed CSQ Certification Body, performing audits to ensure the safety and quality of cannabis and cannabis-infused products.
The medical and recreational cannabis industries have sky-rocketed in recent years. Following widespread legalization efforts, cannabis can now be purchased and consumed in over 30 U.S. states. The Cannabis Safety and Quality Standards was introduced in 2020 to improve the caliber of cannabis products in the burgeoning industry. The Standards were developed by industry professionals and are based on the Global Food Safety Initiative (GFSI) Benchmarking Requirements and the ISO/IEC 17067 Conformity Assessment.
Recent data has shown unrelenting growth in the production and sale of marijuana. Leafly, a trusted cannabis publication, estimates that Americans purchased almost $18 million in marijuana products in 2020 alone, a 67% increase over the previous year. The Brightfield Group, a market research firm, estimates that the worldwide cannabis industry will reach a value of over $30 billion in 2021. As the industry continues to swell, it has never been a better time to expand and certify your cannabis business.
The Benefits of CSQ Certification
Confirm that your business complies with all regulations

Ensure the safety and consistency of your operation

Improve customer confidence in your products

Receive a marketing advantage over your non-certified competition
The 8 Steps to Certification
Step 1: Download the CSQ Standard
Choose the CSQ Standard that best fits your business:
Growing and Cultivation

Manufacturing and Extraction of Cannabis

Manufacturing and Infusion of Cannabis into Food & Beverage Products

Manufacturing of Cannabis Dietary Supplements
Step 2: Assign an employee to manage the CSQ System
Step 3: Download and read the CSQ Quick Guide (coming soon)
Step 4: Fill out the form on this page
Step 5: Conduct an internal audit or receive an external mock audit
Step 6: Correct any transgressions noted during the audit
Step 7: Schedule your certification audit with QIMA/WQS
Step 8: Complete the certification audit and that's it! You're certified!
Cannabis Safety and Quality Audits by QIMA/WQS
QIMA/WQS provides CSQ Certification audits for cannabis production businesses of all types, including cultivation, extraction, and infusion facilities.

We have spent the past few decades providing safety solutions for the food & agriculture industry. These experiences translate effortlessly to the world of cannabis, as the basic principles remain the same: integrity, safety, and quality.

QIMA/WQS counts with locally experienced food auditors approved for multiple schemes across all food safety quality areas.
More than 9,000 satisfied clients at every stage of the food supply chain are proof of the quality, dedication, and success offered by QMS/WQS.

Thank you - your inquiry has been sent.
We will come back to you shortly.

Back